STAFF OF ELECTRIC CITY - We are prepared to bring the complete force of our criminal enterprise down upon you. We have infiltrated your computer systems and have weapons trained on you 24 hours a day. One phone call is all it will take. What we demand is extensive coverage for our crappy movie. We want far more coverage than our pathetic, amateurish production deserves. Comply with our demands or all hell will break loose. I held my graphic artist at gunpoint and had him make a mock cover. I've read your "Rube Lomax" and know you are hurting for good copy. Have your lackies write us up real nice like. - Merv Schmendrick
Ring ring.
Two rings. It's an outside call. Dammnit.
Electric City this is Gene ...
This is Ted Geltner. I need some publicity for my movie that's coming out Sunday.
Sorry Ted, we're out of space for this issue. But if you ...
Hey, I wasn't asking, I'm telling. Now give me some press or there will be murders.
Ted lighten up dude, this isn't the movies ...
Listen to me kid, if you look out your window, I have a 30-caliber shotgun pointed at your head. From this range, the exit wound would be about the size of a coconut.
I don't have a window.
Um ... (whispers in background) my associate Bob — I mean Roberto — has two of your co-workers here, Wendy and Alicia, and if you don't interview me, you'll have to pick which one dies.
Hmm. Well, suddenly this whole attempted hostage/publicity stunt thing was starting to look promising, even if it was just Ted from the newsroom and Bob, our photographer. I knew those guys had been making a movie all summer because they'd congregate in our office to view the dailies. I swear that super computer is the last thing our Sauce cartoonist Eric Toffey needs. Now he spends all of his time making very disturbing - yet funny movies, and this one Ted wrote is their latest effort.
But the movie Ted is so desperately trying to get publicity for is really, really funny and it looks really good. Like, it actually looks and plays like a real movie.
Maybe he did have Wendy and Alicia captive though. People get real passionate about their art and perhaps I'd better be nice. And, I was really, really starving.
I gave him my best impression of a frail victim in one of those highly-manipulative Denzel Washington family drama flicks.
Please Ted, I don't want any trouble. I can't bare to see anything terrible befall my two favorite female co-workers.
That's more like it. I want an interview. Like one of those cheesy pedestrian ones you see on E! where people talk about movies.
Pedestrian? I'm all about pedestrian. Hey wait a minute, Wendy and Alicia are bickering right next to me. Ted is full of crap. But maybe his movie is worth seeing. Here's the interview, you be the judge.
So tell me about this movie, Ted.
Well, I wrote it. It's probably the finest movie to come out of Northeast Pa. since Caddyshack. It's called Schmendrick's 5, and it's loosely based on the classic Ocean's 11. Except in our version, the group is far more mentally and physically challenged than in the original.
Who's in the movie?
We have a cast of 14-15 but that includes people that happened to walk into the camera while we were filming the movie. The "5" are myself, Eric Toffey, Bob Urban, Edward Pikulski, and Chad Sebring. The production crew is made up of people not in the scenes, so they could work the camera. Then we hired Rich Banick and his Banick Land Studios for production. Rich has a bunch of digital cameras. Basically, a lot of us have been wanting to put together a movie for sometime now, and the stars converged this summer.
That's quite an ensemble. Any egos clashing on the set?
There was a lot of that on the set, especially when one day it took us seven hours to get Toffey out of his trailer. He had to be bribed with wine coolers and chicken McNuggets. But we've also discovered some acting talent that'll have a long, prosperous career in making motion pictures, particularly Ed Pikulski. We've already filled out the paperwork for an Academy Award nomination this year for his portrayal as Da Bum.
How long did it take to shoot?
It would have taken a normal studio two to three years to make this, from script to final production. We managed to do it over the course of four months, with a combined total of maybe 11 hours of work.
How are you so efficient?
We developed a new style of production in movie making. We call it one-take film making. There's no read-through, no rehearsal. You only get one try, and we run with it.
Wow. That must really save you time in post ...
Not really because we kept forgetting to turn off the camera so we always ended up with more tape than we needed.
How long is the film?
It's about 38 minutes. With a few intermissions, of course.
What was your budget?
We started with zero dollars, but then we had to buy a cigar for one scene, so that put us up in the $6-7 range.
Where did you shoot?
We filmed a lot in the Scranton Area, and there was one short scene where the whole production moved to Texas so we could get the flavor of the South. It was a key scene and the whole movie turns on that scene. But it also set us back about six weeks.
Any crane shots?
I wanted to do a crane shot, so we did one. It was the first time a crane shot was used without using an actual crane. We just had our guy crawl up on someone's porch.
Any off-camera romances?
There is some behind-the-scenes stuff we couldn't release. There's a lot more to the Bob Urban/Chad Sebring tongue-kissing scene that had to be cut so we could keep our PG-13 rating. But that will be available on the DVD.
Why did you make the movie?
We heard Wendy was on the Pennsylvania Film Festival Committee and we could get into the Festival. Not only are we in, but we guaranty victory.
Anything else you'd like to share?
Yeah, there's a special cameo by Tom Hanks.
Really? Is it credited?
It's credited, but there's no appearance. So it's unperformed. We're trying to buck the trend of big-name stars and uncredited roles.
Well gee, Ted, sounds like a decent movie you have there. Will you please release Wendy and Alicia now?
Who?
That's what I thought.
MERV SCHMENDRICK - CRIMINAL MASTERMIND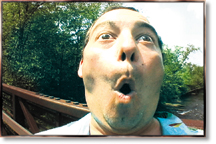 Schmendrick (Ted Geltner) has been connected to more than 150 heists, schemes and confidence games, of which three have been successful. To this date his life of crime has netted him $11.53 ... has developed an extensive network of criminal connections from his time in prison. In fact, he is known throughout the national prison system as "a complete moron" ... also a huge fan of the 1980s pop group Wham! ... never recovered emotionally from the breakup of Wham! ... did a 16-month stint in prison in the early '90s after stalking George Michael and assaulting him with a salad spinner ... enjoys the occasional malt liquor beverage.


BILLY BOB "BUTT KNUCKLE" SMITHJONES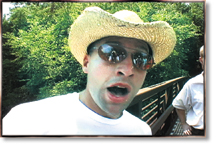 - WEAPONS EXPERT
Butt Knuckle (Bob Urban) is a known throughout the region for his extensive knowledge of weapons ... is proficient in many aspects of weaponry, from very simple weapons, such as the "shovel," to much more sophisticated devices, like the "back hoe" ... is not proficient, however, with the working of indoor plumbing ... supports himself through a variety of odd jobs ... income level has yet to climb to the level of minimum wage ... in his spare time he enjoys the culinary arts ... particularly enjoys cooking animals that he can run over with his lawn mower ... in fact, often uses his John Deere to tenderize the meat of the raccoon and porcupine, both of which he considers delicacies ... can read most words that contain three or fewer letters.
IRWIN MCSWEE - COMPUTER HACKER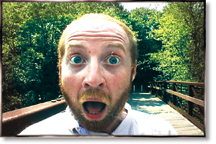 McSwee (Chad Sebring) has developed a stellar reputation throughout the criminal underworld as a computer technician ... once hacked into the RCA Web site and added male genitalia to a photo of Britney Spears ... later served 11 months in the Geneva Home for the Mentally Disturbed in connection with that incident ... while hacking into the Federal Government Website to try to get out of paying taxes, accidentally paid $173 billion to the government of Fiji, causing the current economic recession ... in his spare time, he enjoys masturbating while watching the television program Elimidate ... also likes to snort lines of coke the size of his arm.

MORTIMER "STAN" STANSFIELD III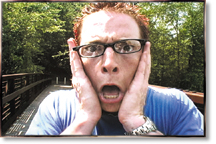 - MASTER OF DISGUISE
Stan's (Eric Toffey) ability to take on many different identities along with his powers of concealment have made him very valuable in the criminal world ... once disguised himself as a female cheerleader in order to gain entrance into a fraternity party ... later that evening was gang raped by a group of fraternity brothers ... is extremely limber, which once allowed him to fit into a microwave oven ... treated for radiation poisoning after someone mistook him for a microwaveable burrito ... when not committing crimes, enjoys surfing, playing tennis, and defecating in the middle of busy intersections.

DA BUM - CROWD CONTROL EXPERT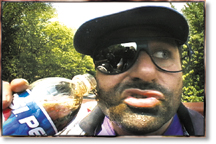 Da Bum (Edward Pikulski) is known nationally for his penchant for controlling the public during high profile heists ... has the ability to emit an extremely unpleasant odor at will, which sends people running for cover ... actually, he emits that odor at all times ... has not bathed since the Republicans took control of Congress ... he's not trying to make a political statement, he's just a disgusting slob ... his favorite beverage is liquor of any kind, which he drinks in the morning, afternoon and evening ... if liquor is not available, he also favors any number of household cleaning supplies ... years ago gave up the practice of urinating in toilets.